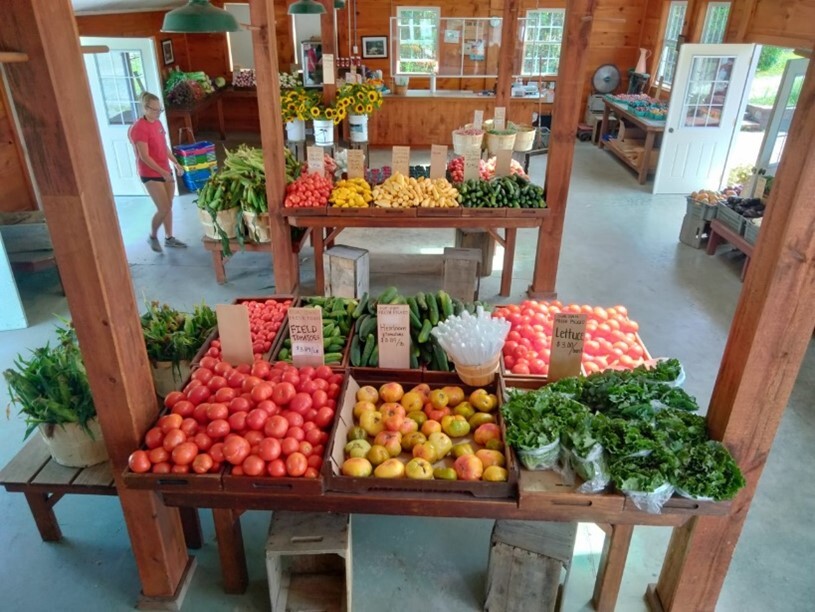 In this blog, we are spotlighting two local businesses and discussing the benefits of community supported agriculture (CSA) programs through the Devens Farmer's Market. It's our goal with Devens Forward to support local farms and businesses and make fresh fruits and vegetables available to residents to support healthy eating, active lifestyles, and community building.
Dick's Market Garden
One of Dick's Market Garden's many active growing fields.
For a peek inside one of our region's most prolific CSA farms, we talked to Stephen Violette, owner of Dick's Market Garden in nearby Lunenburg, MA.
Their farm has nearly 200 acres of active fields spread over Lunenburg, Leominster, and Townsend. Stephen and his family operate a farm stand seven days a week and offer fresh produce all year round.
In our interview, Stephen emphasized that Dick's is focused on supporting the local community and the next generation of farming. He is excited by innovations in sustainable farm tech- like urban and rooftop farming and container farming. Dick's also participates in many state and national food assistance programs like SNAP, to help get fresh produce to those in need.
SNAP, the Supplemental Nutrition Assistance Program, along with HIP, the MA Healthy Incentives Program, and WIC, the Special Supplemental Nutrition Program for Women, Infants, and Children, are programs that Devens supports to ensure that all our residents can access healthy foods.
Here is a list of amazing sustainable practices Dick's Market Garden employs at their farm:
They use reduced fertilizer and pesticides.

Rotate and plant cover crops to protect soils that they till .

Use mulch to protect and keep nutrients in the soil and reduce the need for amendments.

Maintain healthy micro-organisms in the soils – balance for beneficial root development and better plants.

They grow low-no pesticides crops.

Integrated pest management plan (IPM) no blanket fertilizer and pesticide applications. Bio-controls and naturally occurring pesticides. IPM consultants to help manage veg and small fruits in Greenhouse and another in the fields and orchards.

Grow only non-GMO crops and seed production.

Partner with UMASS extension on continually improving farming operations.

Use drip irrigation and targeted watering to maximize water efficiency and mitigate erosion.

Have solar PV on cooler building – a net-zero energy cooler.
Keep your eye out for Dick's Market Gardens at the Devens Farmer Market this summer, and please consider supporting the CSA. You can pre-purchase CSA bags for the entire market season (every other week from June through October) and pick them up at the market. If a business orders 20 or more bags, Dick's will deliver them right to the business the day of the market.
The CSA in Devens is a great option for local restaurants, businesses with cafeterias, and organizations like Clear Path for Veterans who teach cooking and serve meals to veterans. It is a great source of local, seasonally available produce.
Devens Recycling (Republic Services)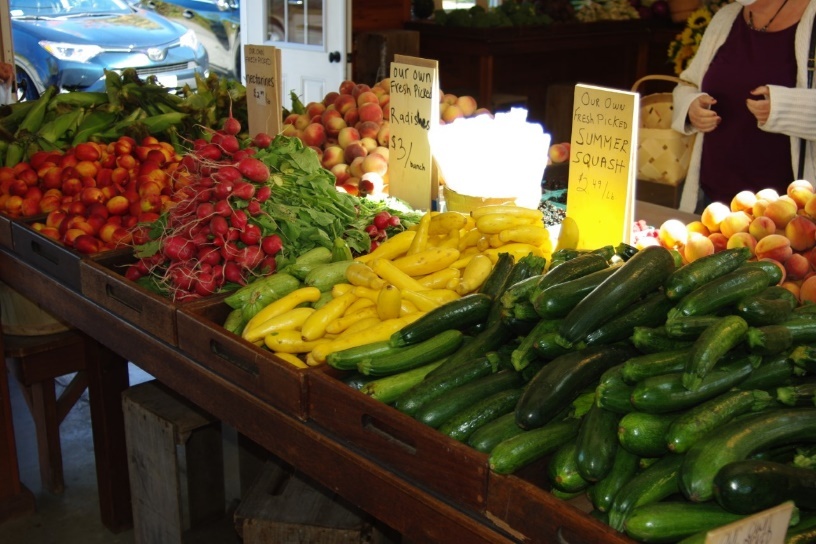 Employers can provide their employees with fresh produce like this all year round through the Devens CSA!
Devens Recycling was one of the first businesses in Devens to take advantage of the CSA by pre-purchasing 20 bags of fresh produce every other week for the 2022 Devens Farmers Market season. Every other week, before the Farmer's Market, Dick's Market Garden delivered the 20 bags directly to Devens Recycling for distribution to their employees.
Michael Green, Operations Manager for Republic in Devens, said "employees looked forward to the bags every other week. It was a big morale boost."
Devens Recycling chose to participate in the CSA because they wanted to contribute to and support the Devens community and the region. They found the CSA to be of great value and a program that was an added benefit for their employees. Employees shared the bags with co-workers and they and their families loved the bags and the variety. The free delivery was a great added bonus!
Bob Fico, former Operations Manager for Devens Recycling said, "It's one of the best things we've done for our employees."
We hope other businesses in Devens will get excited from hearing about Devens Recycling's experience and look to join the Devens CSA and pre-order bags for their employees for the 2023 Devens Farmer's market season.
If you are interested in pre-ordering, have questions, or would like to participate, please contact neilangus@devensec.com. Stay tuned for more information!