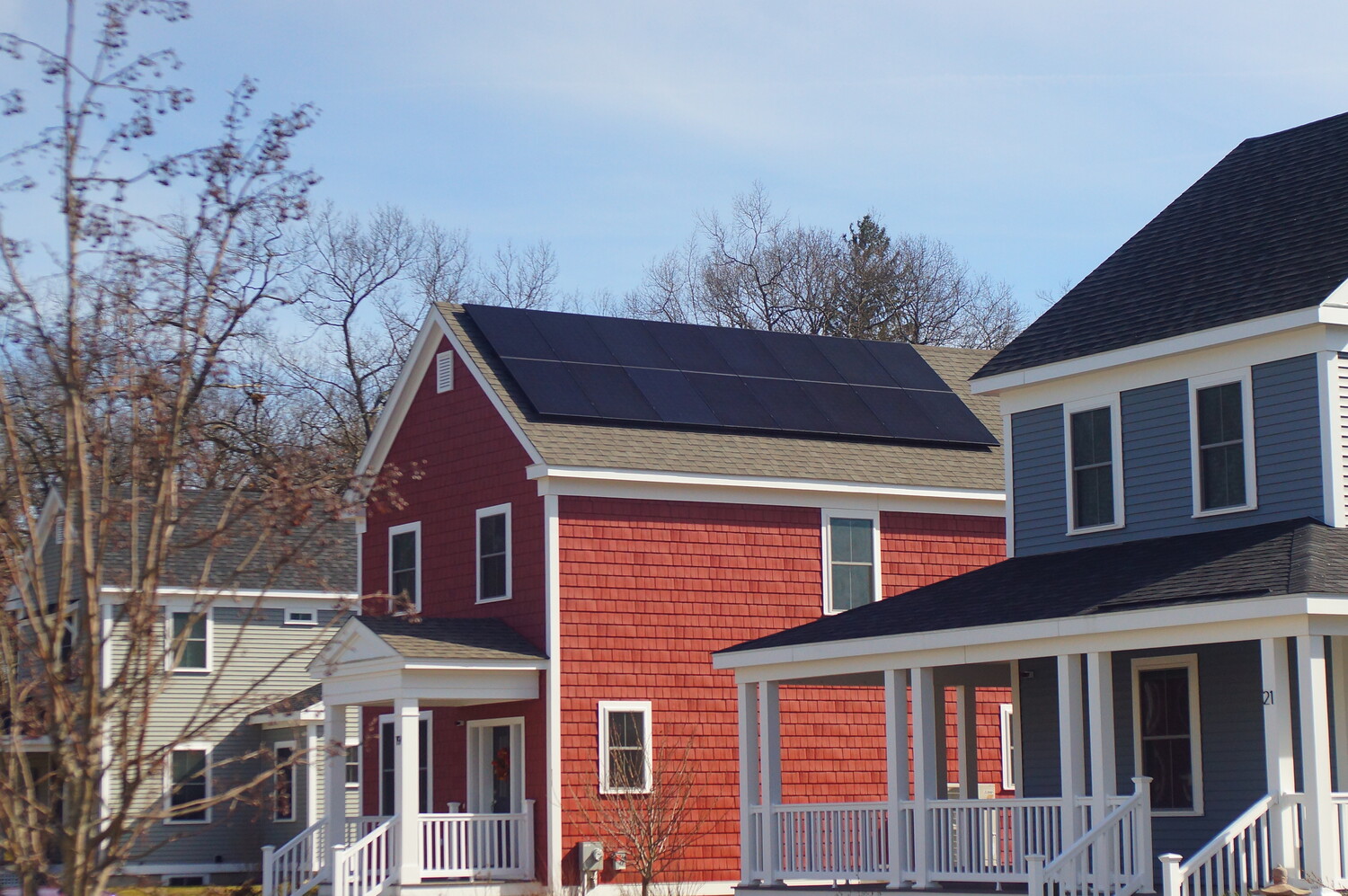 Housing
As Devens continues to grow and redevelop itself into a 24 hour community, the need for diverse and affordable housing options has become greater. At the same time, housing development will need to be completed sustainably to avoid negative impacts on the environment. Sustainable housing construction and maintenance, including adaptive reuse of existing buildings, can reduce community-wide emissions, preserve green space, and allow for a safe, accessible, and thriving residential life in Devens.
As a military base, efficient housing could be used to describe how many soldiers could be accommodated in the barracks and other housing around the base. Today much of the housing in Devens are models of energy efficiency, not to mention have a few more amenities for modern families.

Residential Development Standards
The Devens Enterprise Commission (DEC) has already taken great strides to improve the efficiency and sustainability of the community's housing stock. In 2013, DEC created Innovative Residential Development Regulations to provide a streamlined development review process that promotes residential development that meets a variety of housing needs, protects the environment, furthers energy, water and resource efficiency, and complements residential development patterns in Devens. The regulations encourage:
Development on small lots
A connected system of trails and open space
Housing diversity
A system of safe, accessible, multi-purpose streets and sidewalks
Development designed primarily to accommodate people, not cars
The goals and objectives of the Reuse Plan and By-Laws
All together, these standards are leading to the creation of a vibrant and cohesive community.
Read the Standards
Did you know about Devens' Sustainability Housing pilot?
In 2012, MassDevelopment and the DEC partnered on a sustainable housing pilot project that resulted in 20 units of single and multi-family super-energy efficient housing that ended up exceeding expectations. Designed to be zero-net energy homes, a number of the 20 units actually ended up producing more energy than they consume over a year and fed electricity back into the grid. The results of this pilot led to a series of regulation amendments that have fostered the development of an additional 124 units of hightly energy efficient homes in an innovative New Urbanist neighborhood.
Devens has a growing number of LEED buildings in both its residential and commercial sectors, including buildings at Bristol-Myers Squibb, US Army buildings, the Transitions Women's Shelter, and a number of residential buildings. The number of certified or certifiable building square footage has nearly doubled between 2012 and 2017.
Emerson Green: A Walkable, Sustainable Neighborhood
Inspired in part by the Sustainable Housing pilot in 2012, Emerson Green will be a walkable, community-focused neighborhood featuring traditional features like front porches, tree-shaded sidewalks, and a town green. The Emerson Green master plan calls for up to 124 potentially zero-net-energy homes, including a mix of single-family units, duplexes, townhomes, and rental apartments surrounded by green space. The diverse mix of housing options creates homes for households ranging in size, structure, and income-level.
In addition to the many single family housing options, more types of housing may soon be available with the proposed redevelopment of Vicksburg Square. This project has great potential for creating a variety of housing types in Devens.