Public Health and Safety
Climate change is bringing hotter days and more intense storms. From an increased risk of heat-related illnesses and vector-borne diseases to blocked roadways, these impacts have an effect on our community's public health and safety. The Devens Forward plan seeks to improve the community' preparedness while improving public health through increasing access to healthy food and active lifestyles.
Natural Disaster Response Team
Devens has worked to become better equipped to handle an emergency through strengthening its collaborative emergency response capabilities. Through the development of the Montachusett Region's Natural Hazard Mitigation Plan, there is an emergency response team in place to respond to issues quicker and lessen damage for any natural disaster that occurs. The team is sent out through the fire department and the emergency management director, and is made up of local Devens staff and volunteers.
In addition to local responders, Devens is also home to Army National Guard which gives the regional a significant boost in capabilities to respond to a major disaster.
Pest and Vector-Borne Disease Management
Preparedness also includes working to prevent public health risks before they become more urgent. Longer summers with hotter days create a longer breeding season for insects, increasing the risk of Lyme, EEE, and other vector-borne diseases. To help mitigate these risks, Devens has partnered with the Central Massachusetts Mosquito Control Project. The regional group consists of 42 cities and towns in Central Massachusetts from Worcester and Middlesex Counties. As part of the Devens Forward Plan, Devens is looking to update its pest and vector-borne disease management plan.
The ability to have a balanced diet is an important way for Devens residents to stay healthy. Devens began hosting weekly farmers markets in 2019. The markets, held on Wednesdays from 2:30 - 6:00 pm, make local, healthy food more accessible to Devens residents and visitors. The market features stands from Dick's Market Garden, Little Leaf Farms, the Dragonfly Wellness Center, Loaves & Fishes food pantry, and the Natural Cafe and Market. By accepting SNAP, HIP, and WIC, the farmers market strives to make healthy food affordable and accessible to all.
Little Leaf Farms
Devens is home to many innovative businesses, including Little Leaf Farms. Using one of the most technically advanced greenhouses in the world, the Devens-based farm provides fresh baby lettuce to New England consumers. In 2020, Little Leaf Farms doubled in size from 5 acres to 10 acres.
Staying active is a a great way to stay healthy, relieve stress, and prevent sickness. Devens teamed up with walkBoston to create a map of all the best places to walk, hike, run, and bike in Devens. From the Oxbow National Wildlife Refuge Trail to Mirror Lake Trails, there is no shortages of places to get active at Devens.
Find Walking Trails
Find Hiking Trails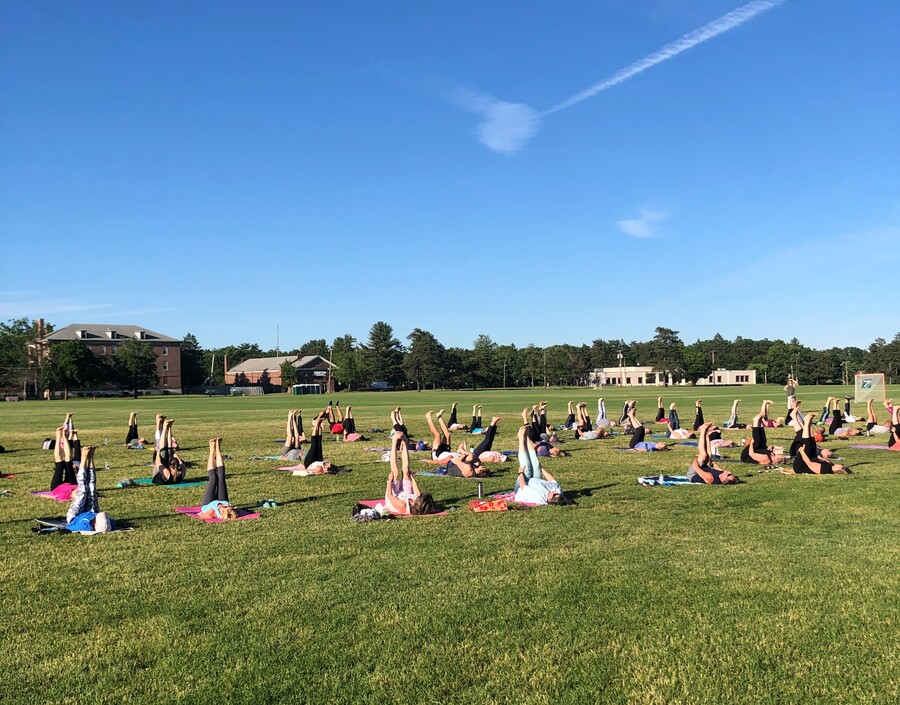 What's the Recreation Department up to?
The Recreation Department is busy organizing programs and events to keep the community active and entertained. They organize the annual Devens Fishing Derby at Mirror Lake, bird walks, game nights, activity sessions, and more, while also hosting various sports tournaments, adventure races, and fundraisers. Director Walsh is a physical activity specialist who works with local businesses to engage them in active living activities such as yoga on Rogers Field, a partnership between the Dragonfly Wellness Center and Devens Recreation to provide free yoga.
Everyone has a role to play in keeping Devens safe and healthy!
---