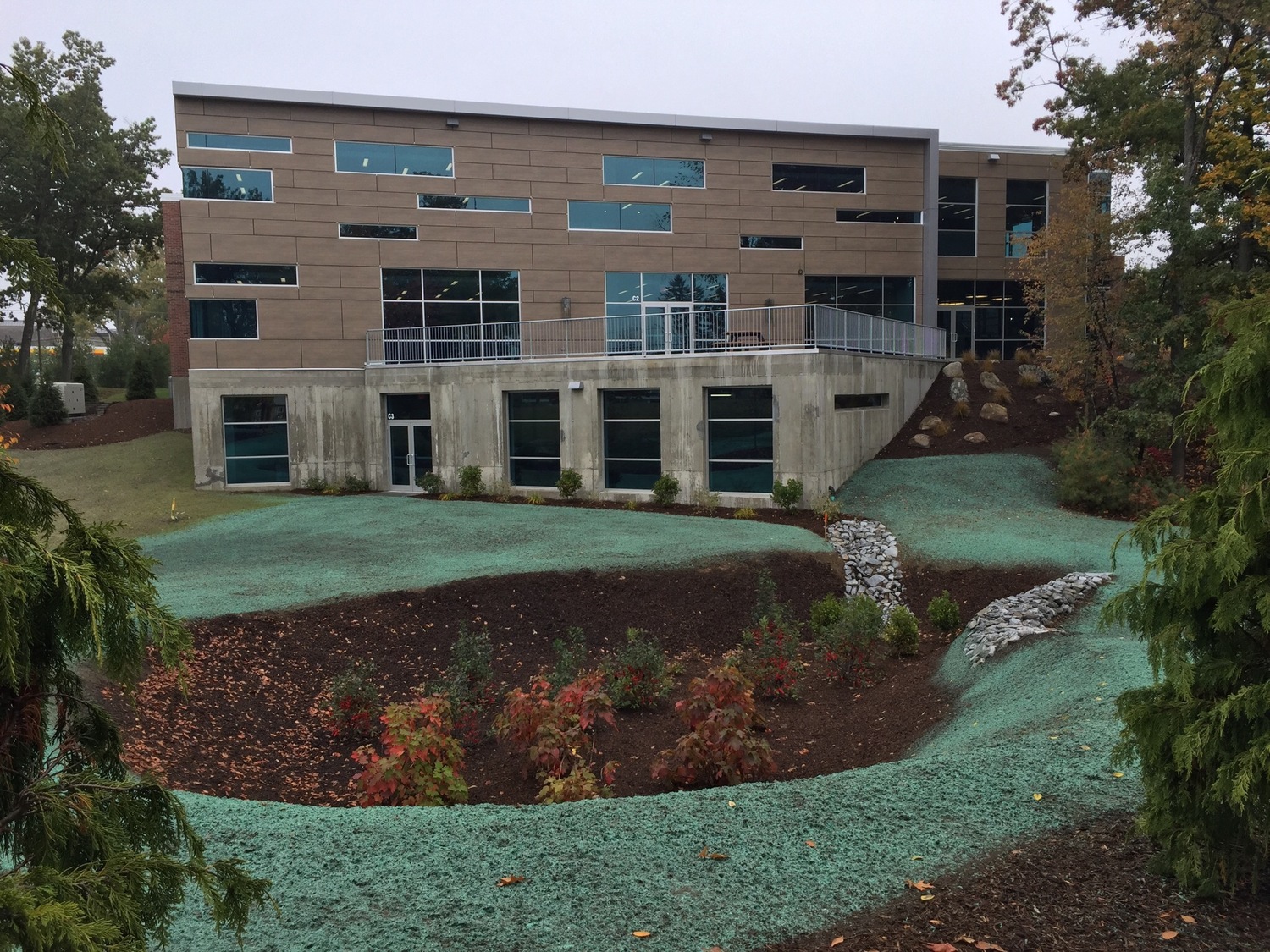 Infrastructure
The deliberate sustainability planning born out of the Reuse Plan has made Devens a regional model for low impact development, green infrastructure, and innovative waste management. These ideas are put to practice every day in thoughtful planning of systems that support Devens' business and the environment
What is the Circular Economy?
Devens strives to go beyond the typical 'reduce, reuse, recycle' approach to waste management by embracing the principles of a 'circular economy' and aiming to be a leader in providing resources and infrastructure to support this. The Circular Economy Lab defines the circular economy as:
"The circular economy is an approach to maximize value and eliminate waste by improving (and in some cases transforming) how goods and services are designed, manufactured and used. It touches on everything from material selection to business strategy to the configuration of regulatory frameworks, incentives and markets." (Ellen Macarthur Foundation)
Source: Ellen Macarthur Foundation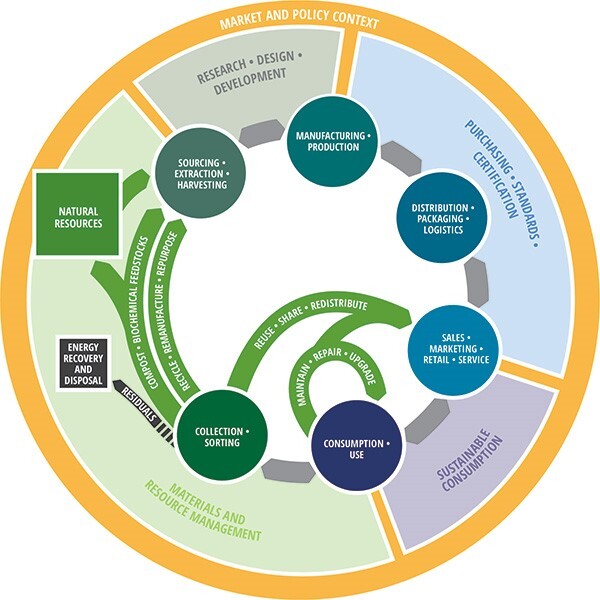 The Great Exchange is a program run out of the Devens Eco-Efficiency Center that prevents the waste of unneeded items and provides savings opportunities for not-for-profit, commercial, and industrial entities by hosting bi-monthly shopping events for lightly used items. Schools, municipalities, non-profits, and community organizations can access a variety of new and like-new operating supplies, furniture, and fixtures. The graph below shows the tons of materials diverted from the landfill through the program and the resulting greenhouse gas emission reductions in 2019.
Great Exchange Material Diversion
In 2019, the Great Exchange diverted a wide range of materials from being sent to the landfill. Materials included supplies, furniture, and miscellaneous items. Click around the graph to see how many pounds of each type of item was diverted in 2019.
Devens Regional Household Hazardous Products Collection Center is a collaboration of 14 surrounding communities and is available to residents and businesses that generate small quantities of hazardous waste. The center routinely serves over 1,200 members annually and has consistently increased the amount collected each year.
This service showcases Devens' role as a resource for advancing sustainability beyond its borders, preventing pollution from improper disposal throughout the region.
Green Infrastructure around Devens
According to the EPA, green infrastructure is a cost-effective, resilient approach to managing wet weather impacts that provides many community benefits. It reduces and treats stormwater at its source while delivering environmental, social, and economic benefits. Green infrastructure can also be effective at reducing urban heat island--the effect that makes paved, urban areas much hotter than green, open space. Devens has already made robust efforts to incorporate green infrastructure and low impact development into the community through:
Vegetated roadside swales
Native wildflower and grasses
Evergreen Solar bio-filtration landscape island
Natural open drainage instead of piping and catch basins
Devens Common underground filtration systems
Devens Common cisterns collecting roof runoff
Rainwater harvesting
Green Infrastructure Incentives
The Devens Enterprise Commission offers a number of regulatory and financial incentives for projects that incorporate certain sustainable and green infrastructure elements such as:
Expedited permitting
Stormwater management credits for green roofs
Relaxed frontage requirements for more energy- and water-efficient development
Additional street types
Renewable energy buildings and electric permit fee reductions
Financial incentives for LEED projects
Explore the Guidelines
Low Impact & Lower Cost Development
One of the main tools Devens uses to reduce the amount of stormwater generated throughout the community is through low-impact development standards that require stormwater from new development to be managed on site. While this requirement may initially seem like a burden, a well designed plan can be executed at lower total cost by avoiding significant paving and other hard structures.
As climate change drives more intense precipitation events, the risk of flooding increases. While most of Devens is located outside of the floodplain, extreme events can cause flooding and water damage almost anywhere. Devens has numerous examples of managing stormwater to increase infiltration rates and safely absorb as much water as possible, including:
Green roofs at the U.S. Fish & Wildlife Service visitor center and Bristol-Myers Squibb
Porous concrete at the U.S. Fish & Wildlife Service visitor center
Porous asphalt at the new hospital facility
Biofiltration landscape islands and basins on residential and commercial projects
Devens works to connect interested individuals with project proponents to help them learn how these low-impact development projects were constructed and how they are being maintained.
Everybody has a role to play in reducing waste and protecting our infrastructure!
---
It's easy to compost and the Devens Department of Public Works makes it easier by offering home composting bins for $25
Protect our water supply by reducing your water use
Reduce your outdoor water use with a rain barrel